DCX® Plus
In Sport-
Studios
We have tested the effectiveness of the DCX Plus disinfection system for use in training rooms of fitness studios and martial arts schools. The aim is to determine whether it is possible, with the aid of an aerogenic disinfection system based on hydrogen peroxide, to significantly reduce germs present in a training room on all surfaces relevant to training and thereby reduce the typical odor contamination. In addition, it needs to be determined which reductions can be achieved on which typical surface materials. In particular, it will be determined which cycle times are necessary for this and whether the use of such a system can be offered as a service.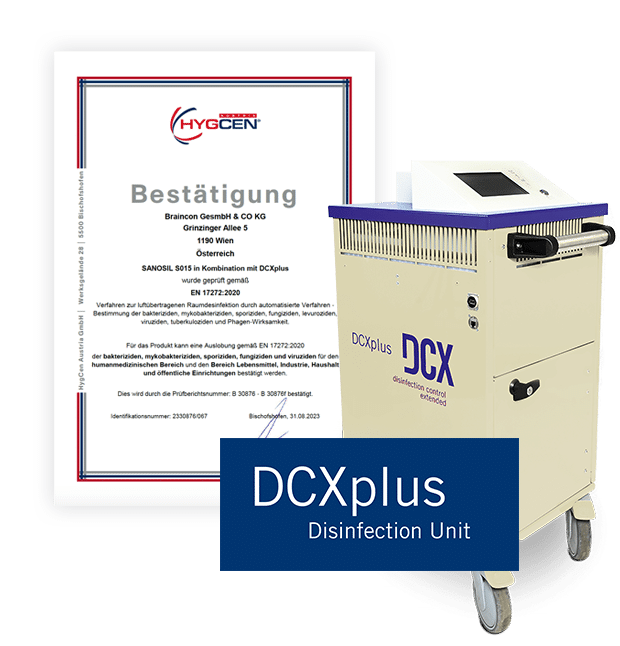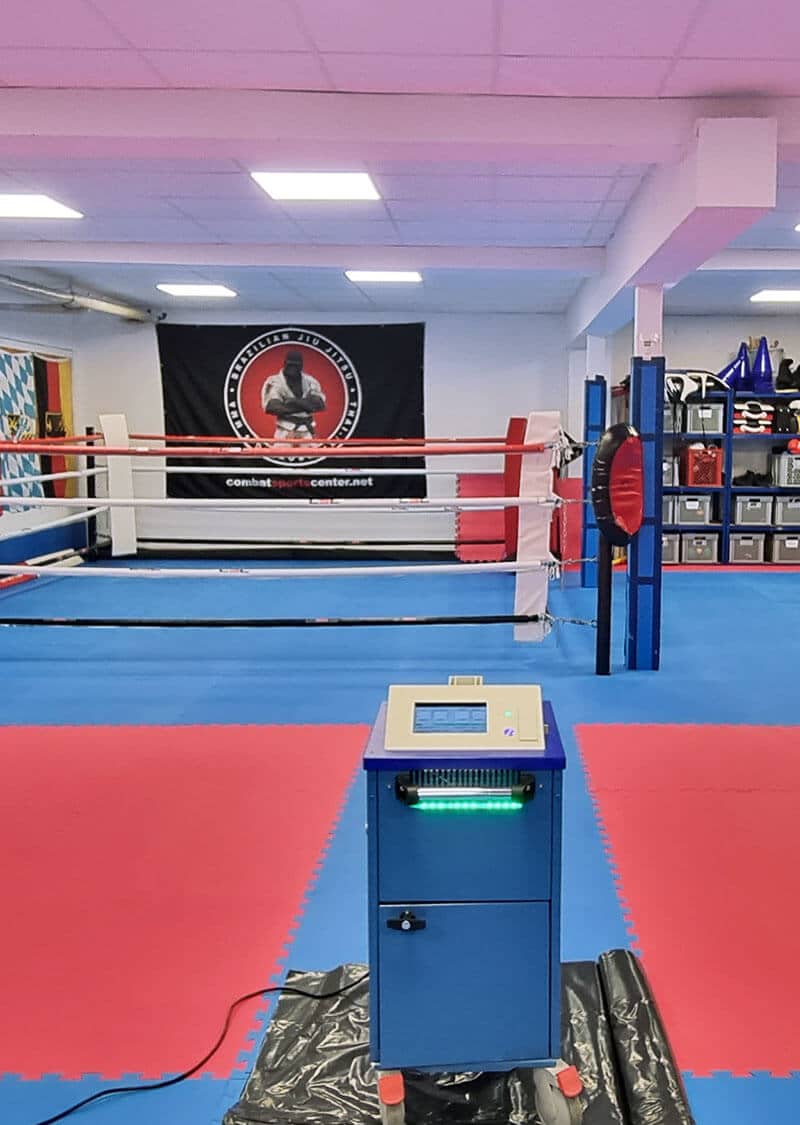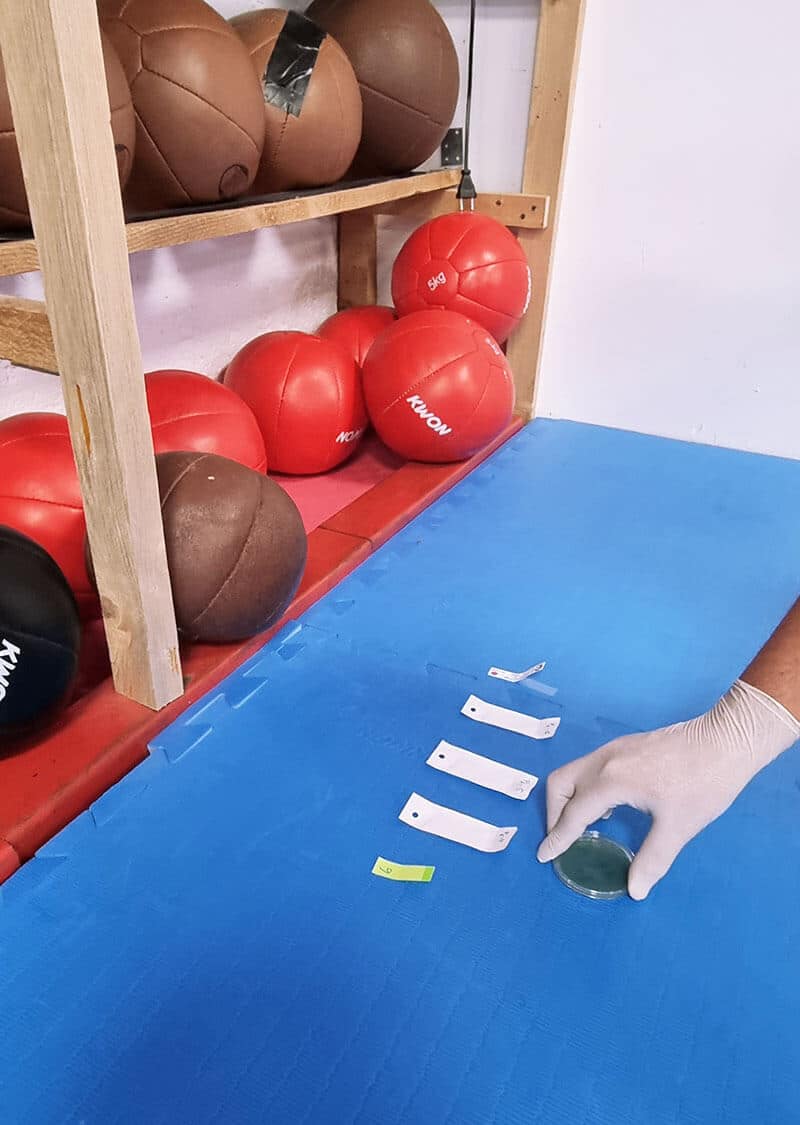 Efficacy testing is carried out using two different detection methods.
On the one hand, bio-indicators with 10⁴, 10⁵ and 10⁶ loadings of Geobacillus stearothermophilus are spread at six relevant positions in the training room and samples are taken in parallel near these positions using imprint plates before and after the disinfection process. In addition to the biological efficacy test, chemo-indicators are laid out at all positions, which allow a statement to be made as to whether the active ingredient mist was present in sufficient quantities at all test positions.
For the test run, a cycle time of 180 minutes is set and surface tests with imprint plates are performed at 6 positions at intervals of 60 minutes each. Bio and chemo indicators are placed at the same positions. These remain in the room for the entire cycle time and are removed and evaluated at the end.
.
1. initial situation
Hall old building approx. 500 m³
Walls with standard wall colors
Standard equipment with floor mats, fighting ring and training utensils
Training equipment and shelves partly made of wood or plastic
2. task
Verification of DCX-Plus performance in large room volumes
Verification of germ reduction under practical conditions and typical ambient conditions
Checking the odor reduction
Leaving all materials and sports equipment in the room
Minor preparatory measures (door lock, sealing connections to other rooms).
Verification of material influence by disinfection process
3. measures
Device: DCX Plus
Active ingredient: Sanosil 015
Cyle time: 3 hours
Starting conditions: 21.7 °C and 54.3 % relative humidity
Before and after comparison of germ load on surfaces (using RODAC impression plates) at 6 test positions
Disinfection process 180 minutes
Application rate 2,417 ml Active ingredient
A high microbial load was found at all test positions
After the disinfection run, significant germ reduction was observed at 5 of the 6 test positions.
Based on the selection of test positions, it can be stated that a significant reduction of existing germs was achieved on most surfaces exposed to the training.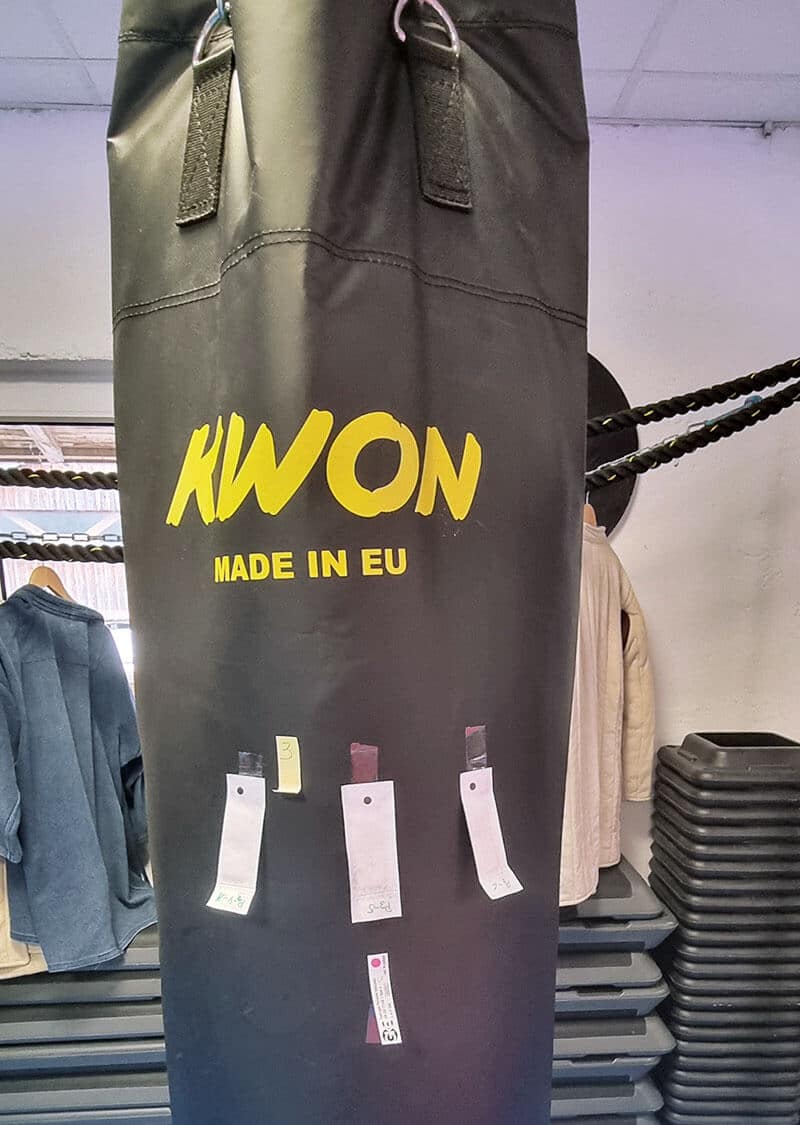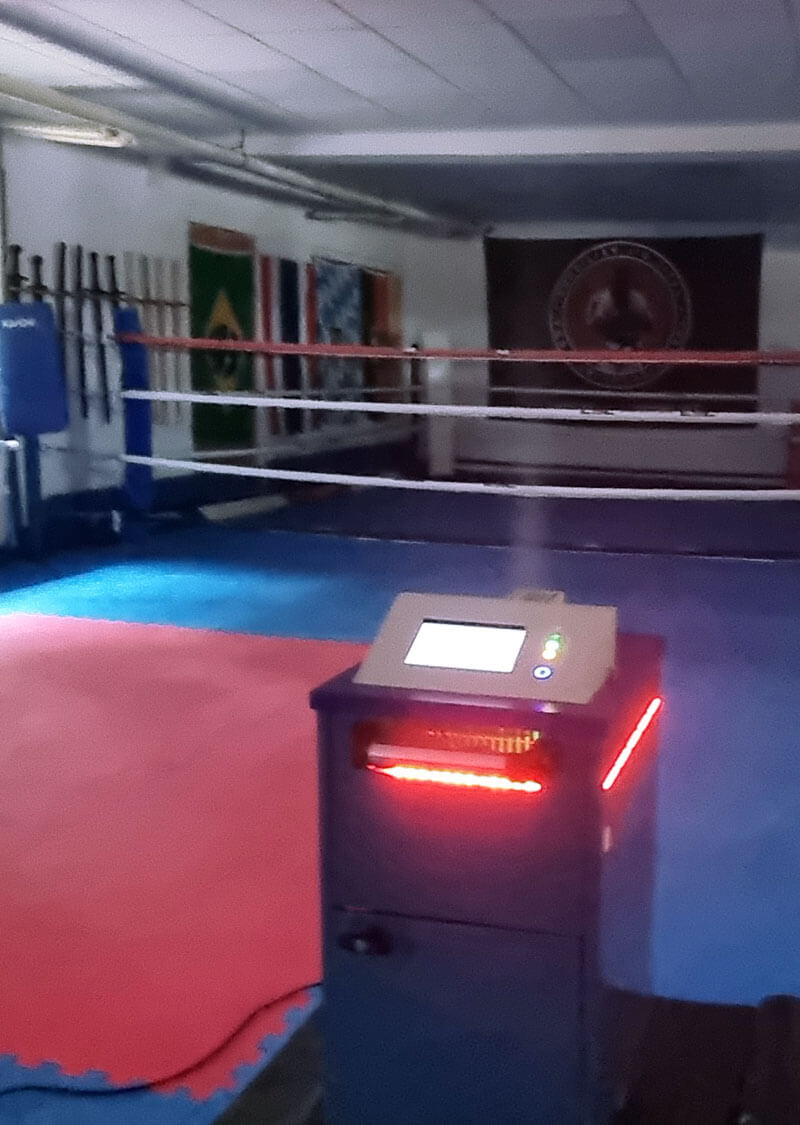 On one wooden element, the germ reduction was not sufficient. Wood is not suitable for disinfection with hydrogen peroxide.
After the disinfection measure, a significant odor reduction was also observed..
Parallel testing of disinfection performance with bio-indicators showed a reduction of test germs by 4 orders of magnitude
Do you have questions or comments?
Your personal contact Mr. Preiss always has an open ear for you!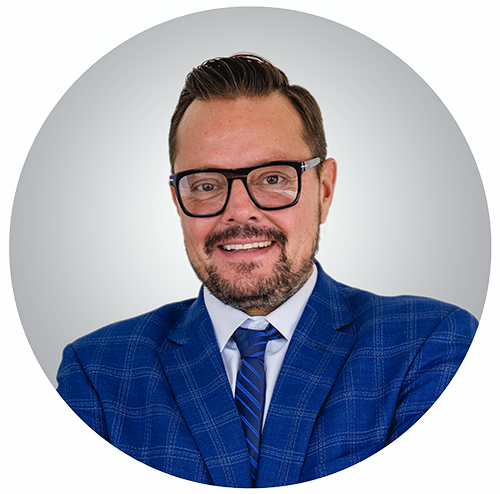 Do you want more Success Stories?
Here you can discover the next application example. Our services can be customized to meet the specific needs of any industry. Our technology is environmentally friendly and leaves no harmful residues.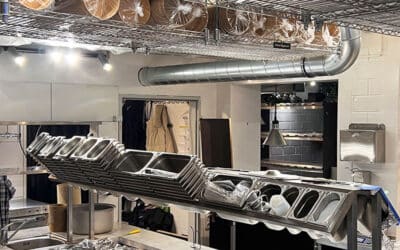 We have tested the effectiveness of the DCX Plus disinfection system for use in kitchens of restaurants, bistros, clinics, nursing homes and businesses.
read more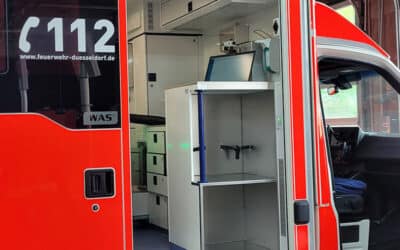 We tested the effectiveness of the DCX Plus disinfection system for use in rescue vehicles of the fire department of dusseldorf
read more
DCX plus
Fast – safe – efficient
The patented cold fogging process
for the highest standards of hygiene
.
DCX pro
The slim and mobile professional
for aerogenic room disinfection
.