DCXpro is the simplest and most mobile system for routine decontamination even in the most confined spaces. With DCXpro, harmful fungi, multi-resistant germs, viruses, spores and bacteria are neutralized and inactivated after just 30 minutes. Parasites such as bed bugs and lice are effectively killed, preventing them from reproducing. Inactivated multiresistant germs: MRSA (Methicillin resistant S.aureus), Human Norovirus, Clostridium Diffilice, P. aeruginosa, E. coli, C. albicans, …
Validatable disinfection against multi-resistant germs, viruses, bacteria, spores and parasites
up to 16 DCXpro controllable via WLAN with a tablet orSmartphone
Tested according to EN17272 and universally applicable DCXpro is the simplest and most mobile system for routine decontamination even in the most confined spaces. With DCXpro, harmful fungi, multi-resistant germs, viruses, spores and bacteria are neutralized and inactivated after just 30 minutes. Parasites such as bed bugs and lice are effectively killed, preventing them from reproducing. Inactivated multiresistant germs: MRSA (Methicillin resistant S.aureus), Human Norovirus, Clostridium Diffilice, P. aeruginosa, E. coli, C. albicans, …
Validatable disinfection against multi-resistant germs, viruses, bacteria, spores and parasites
Up to 16 DCXpro controllable via WLAN with a tablet or smartphone
Tested according to EN17272 and universally applicable
Disinfection & Control
Validatable routine disinfections couldn't be easier or faster. Up to 16 DCX systems can be controlled from anywhere with a smartphone or tablet via WLAN, providing insight into the status of the processes at any time. Battery operation allows you to perform disinfections quickly and efficiently. DCXplus also available without display and battery operation (DCXplus LC/ LowCost variant). This technology has been tested according to EN17272.
Proven: 99.9999% germ-free in 30 minutes* Geobacillus stearothermophilus is a highly resistant form of a vegetative bacterium used by the RKI* for the microbilogical steam sterilization process and can be sterilized in 30 minutes with a LOG-6
reduction* is killed off.
Fastest aerogenic disinfection of
Surfaces & broaching by means of cold fogging
* RKI, Robert Koch Institute
* Test room from 40m3
Technical data
Dimensions in mm (W / L / H) 〉950 x 450 x 920
Weight 〉approx. 50 kg
Voltage 〉230 V / 50 Hz
Power 〉max. 400 watt
Room volume 〉up to 1,500m³
Protection class 〉IP10
Communication 〉USB, WLAN
Insulation class 〉Class I + Class II
Scope of delivery
Ready for connection
Operating instructions
Technical documentation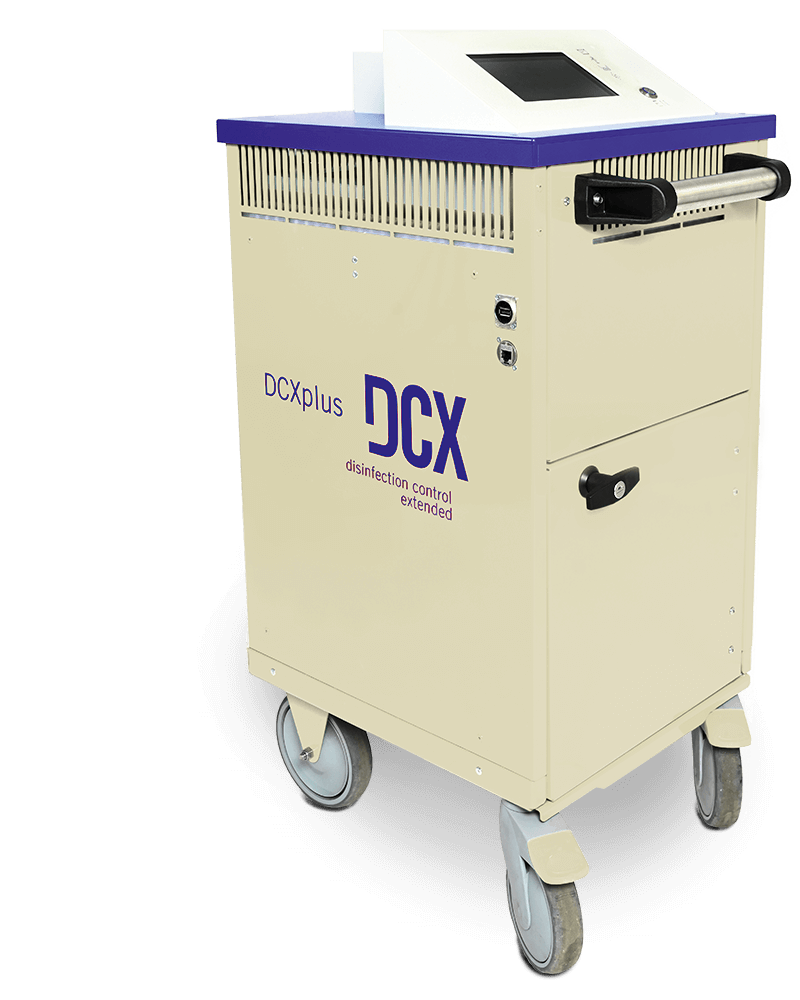 Product proposal
DCXplus
Disinfection equipment

Do you have any questions or comments?
Your personal contact persons
Mr. Haschkamp or
Mr. Preiss have always
a sympathetic ear for you!